Sunday, February 26, 2006
It Will Be A Day Long Remembered
Yesterday was a day to remember.
As soon as the final whistle blew in Murrayfield Stadium to end the
Calcutta Cup
match between England and Scotland, the city of Edinburgh exploded into celebration.
It was a sight to behold as the streets literally jumped with thousands of revellers, dancing, singing and drinking long into the night. And I was one of them.
They day started at 3 o'clock when I arrived in
Sportster's Bar
in Market Street. The place was already very busy with Scotland and England supporters mingling and watching the France versus Italy match. Various tartan outfits and kilts outnumbered the white shirts and red roses of England.
I got a pint Guinness and while I waited for Zander to show up, bumped into an old pal; Paul Anderson and his soon-to-be-father-in-law. They were going to the game and we had a few pints before they left for Murrayfield. Some of Zander's pals joined us as well forming a neat little group next to the bar.
At 5.30pm the game kicked off, and by this time the pub was packed full. There was little room to move except to guide my glass to my mouth. The game ebbed and flowed both ways. We took the lead with a penalty and England equalled the score to 3-3 before half-time. In the second half England took the lead with another penalty before Scotland returned the favour minutes later to make it 6-6.

Then we took the game by the scruff of the neck. Scotland scored another penalty and then a drop-goal to take us to 12-6 amongst some superb defending against the English attack. England retaliated taking it to 12-9 and then Scotland almost scored a try, which would have been amazing but it wasn't to be.
England took it back to 12-12 and Scotland, with the time ticking on and England always within distance of winning the match with a single try, scored again. Two more penalty kicks from Scotland and the 80 minutes were up.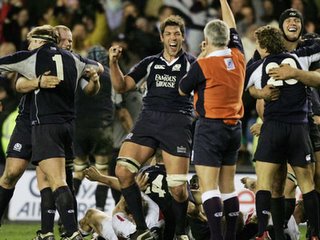 When the ball was kicked out and the whistle blew the bar burst into celebration. A wave of relief after such a tense and exciting match, washed over everyone and many a tear was shed. It was one of those games you never once dared to believe it could actually happen, then when it did, you couldn't quite believe you had!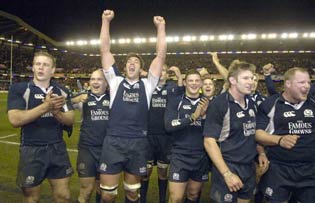 The celebrations in the city went long into the night. Long, long, long into the night. The Proclaimers and other Scottish "ballads" were trouped out once more time, but nobody seemed to mind this time. I remember there not being many English people out in the bars by the end of it, but then, they strangely disappeared as soon as the whistle went. Come on you English - surely you can be good losers for once?

So not only did Scotland beat England 18 - 12 to win the Calcutta Cup, but it also means that we are in contention to turn out a good overall performance in the Six Nations Championship. Beating them also means we have prevented them from winning the Grand Slam AND the Triple Crown.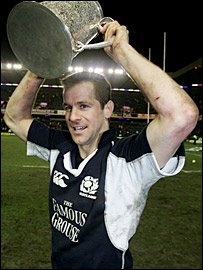 Quote of the day has to be: "This will be a day long remembered. It has seen the end of Kenobi, and will soon see the end of the rebellion." (D. Vader)

There was only one other thing more important than the rugby on Saturday, but unfortunately it wasn't worth celebrating. St. Mirren were knocked out of the Scottish Cup by lowly Gretna.

As for today? Forget about it!

I had the hangover from hell but I wasn't caring. Nor were all my pals who were in a similar situation and who texted me as one by one as they rose from their drunken slumbers.
To finish up, here is an Ode to English Rugby, by Steven Groat.
Ye cam up here to paradise, tae beat us at your game,
Aw wind and piss and full o' shit, yer aw the bloody same,
Ye ca yersels the champions, the nations most elite,
Scotland are the champions, yuv just been fuckin' beat.
A game that wis invented, fur English gentlemen,
No highland Jocks wi tartan frocks, well bliddy think again,
A ba that's shapit like a egg, its just a stupid farse,
A suppose it makes it easier, tae ram right up your arse.
So git back hame an lick yer wounds, yie a bunch o stupid fools,
It's time fur you tae cheat again, change the fuckin' rules,
Rugby, fitba, cricket tae, yur just a shower o chancers,
Stick tae whit ye dae best, you morris fuckiin' dancers!!
(All images courtesy and full copyright respect to the RBS and The Scotsman)

---
ORDER a copy of my latest book, FRINGE FANTASTIC!
Click here to order securely using your credit/debit card.

For more information about Fringe Fantastic, please go to the website: http://fringefantastic.colingalbraith.co.uk
---
Colin 1:59 pm
1 Comments:
What great mental pics!!!

;-)